We Are Now Taking On NEW Affiliates To Promote UNITED GAMES
As we release the United Games Affiliate portion of this experience, this is INTENTIONALLY EXCLUSIVE. This means that we are NOT allowing for a code to be posted, blasted, or spammed. It is meant to be shared one on one, and therefore each invitation needs a unique code, created during the invitation process.
When the game itself goes live, and it is time to tell the world to play along, this will change dramatically and you will be given a code that can be posted, blasted and pasted! We at United Games want players everywhere knowing about this FREE app, and we want them to download and play along.
Please keep in mind, we at United Games are not wanting every person in the world to be an Affiliate. We want good Affiliate partners who understand the opportunity. We want them to know what they are committing to and that is done person to person. However, when the app is released, you will be given open access to share one code with thousands of people if you want to.  United Games is expecting this to go viral – don't you think you should be in on the fun as well?  Let United Games share the opportunity with you.
Complete all the Information Below to get your Invite
Powered by

Response Magic
Email Marketing System

IT'S AS EASY AS…
1. Get paid every time someone you share the app with gets a token
2. Get paid when you invite others to play with you
1.Share
2.Play
3.Earn
Build an affiliate team and get paid as they share and play Apps are Exploding Current
100 Billion apps downloaded
$45 Billion in revenue 2017 projections
268 billion app downloads
Over $200 Billion in revenue Games Dominate! $500,000 – $1.5 million DAILY! 20,000 – 120,000 downloads daily Fantasy & Sports Fans
• 56 million Americans play fantasy
• 290 million people watch sports
• 8.7 hours per week for fantasy
• 18 hours per week as a sports fan If over 90% of Americans are sports fans, but only 20% play fantasy, why don't the majority of fans play?
Why NOT Fantasy?
1. They feel like it's gambling
2. Fantasy changes the game
3. Fantasy threatens loyalty
4. It's too difficult to get started
5. Low chances of winning
6. And the list goes on!
The better way to play
• A true game experience
• Loyalty to "your team"
• Play by yourself or with friends
• Everyone wins, every time!
• All experience levels
• Game by game experience
Now it's your turn!
What if YOU get a piece of the next hot app?
We are offering a group of exclusive Affiliates the chance to help us promote and share the app.
• Fun
• Simple
• Affordable $29.95 once $10/month
How does it work?
1. Users download a FREE app
2. Tokens are acquired through:
•In-app purchases
• Benefit-loaded subscriptions
• FREEMIUM play and advertising
Affiliates that share the app, can get a piece of all types of revenue.
So what's your job if you decide to become an Affiliate?
Share a FREE app!
The better way to play
Play because you love the game
Compete with your friends
Earn rewards
Become a United Games Affiliate
Enroll
Start Inviting
Build your Team
The Plan
1. Create a base of affiliates
2. App goes live (Fall 2016)
3. Affiliates share with players
4. Players share with players
5. Create a viral frenzy
6 .Play Tokens Earn Points Get Rewards
7. Acquire Tokens
8 .Improve Rank
Premiere Gamemakers Former EA sports game designers are working to create the ultimate United Games platform! These designers have already brought you some of the leading sports games on the market including: • Madden Football • NCAA Football • NASCAR
START HERE to see a Presentation and to see the Business Plan in a .PDF Document
GO HERE to see the full Compensation Plan for the Affiliates.  GET PAID !
Do you need more proof that this opportunity with United Games is something you should be a part of?
"Video games are ingrained in our culture. Driven by some of the most innovative minds in the tech sector, our industry's unprecedented leaps in software and hardware engages and inspires our diverse global audience. Our artists and creators continue to push the entertainment envelope, ensuring that our industry will maintain its upward trajectory for years to come."
— Michael D. Gallagher, president and CEO, Entertainment Software Association
WHO IS PLAYING?
155 MILLION AMERICANS (ALONE) Play Video Games – And United Games is Worldwide… 
FOUR OUT OF FIVE U.S. households own a device used to play video games
There are an average of TWO GAMERS in each game-playing U.S. household
51 % of U.S. households own a dedicated game console
42% of Americans play video games regularly (3 hours or more per week)
The average game player is 35 years old
"The industry is producing a steady stream of games that continue to expand their nature and impact – they can be artistic, social, and collaborative, with many allowing massive numbers of people from all over the world to participate simultaneously." —The New Media Consortium's 2014 K-12 Horizon Report
TOP ➎ REASONS PARENTS PLAY GAMES WITH THEIR KIDS: ➊ It's fun for the entire family: 85% ➋ Because they're asked to: 75% ➌ It's a good opportunity to socialize with their child: 75% ➍ It's a good opportunity to monitor game content: 58% ➎ They enjoy playing video games as much as their child does: 54%
REF: .theesa.com/wp-content/uploads/2015/04/ESA-Essential-Facts-2015.pdf
Who's playing games?
Over 59% of Americans play games
That means that in America alone, over 150 million people play games. 150 million people spread over a vast variety of backgrounds, ages, genders, socioeconomic statuses. All of us are jumping into stories, swapping gummies, fighting foes, traveling through time, and finding hidden objects.
Average age of the gamer is 31
This is up from 30 years old last year. Is it safe to assume that as video gaming aged another year, so did all of its gamers? Or is a safer theory that, even as the younger generation grows into gaming, more of the older generation begins embracing it as well?
Children and video games
29% of gamers are under 18
Video games are no longer seen as strictly toys for kids. In fact, it seems as though that image has changed almost entirely. Don't get me wrong, obviously there are still games intended as entertainment for kids. However, more gamers are over the age of 50 than under 18. We're also seeing video games as educational tools to help improve focus and concentration in children.
74% of K-8 teachers use digital games in the classroom
The instructors report that video games increase motivation and engagement in their students. 4 out of 5 of video game-implementing teachers use games created exclusively for educational purposes.
It's not just teachers who are using games to assist in educating the youth of today.56% of parents say video games positively affect their children.
Gaming and Gender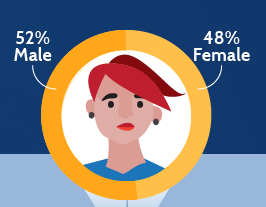 48% of gamers are female
Up another percentage point from last year (47%), women are a massive force in the video gaming audience. I predict that this time next year, we'll see a shift in who makes up the majority. Also, video game purchasers are split right down the middle. 50% are men. 50% are women.
52% of gamers in the UK are women
Across the ocean, a study conducted in September 2014 found that 52% of gamers are women. Of those surveyed, 33% listed their favorite game genre to be Trivia/Word/Puzzle. It goes without saying that mobile and casual gaming has contributed to the steady rise in female gaming. However, in that same study it was discovered that 56% of female gamers have played on a console and 68% have played online.
22% of the video game workforce is made up of females and 76% of game developers are men
While this number is a bit disheartening, and we'd love to see more diversity in the business of video game creation, it is double what we saw in 2009. As awareness grows, I have no doubt we'll see more smart, creative, and innovative women rising in the industry.
One final note about gender and video game culture: with 2014 came the debacle that was #gamergate. It was big, it was loud, it was confusing and angering. Don't know what I'm talking about? For a comprehensive review of the events, check out the article by Mirror.
The rise of the independent video game
An amazing bi-product of the rise in mobile gaming popularity is the emergence of independently released games. The technology of smart phones and tablets has allowed for the widening reach of indie titles. These games are often beautifully illustrated, clever, innovative, and fun. The dream of starting a tiny game studio with two or three founders seems more feasible than ever to ambitious dreamers.
Of Metacritic's top 25 iPhone/iPad games of 2014 list, half (13) were independent releases.
Top 10 games of 2014
In a surprising turn of events (to some) it was announced a few days ago that Call of Duty: Advanced Warfare brought in more sales than Bungie's massive $500 Million Destiny. Below you'll find the list of top 10 best-selling games of 2014. Please note: this list does not take into account digital sales:
1. Call of Duty: Advanced Warfare
2. Madden NFL 15
3. Destiny
4. Grand Theft Auto V
5. Minecraft
6. Super Smash Bros
7. NBA 2K15
8. Watch Dogs
9. FIFA 15
10. Call Of Duty: Ghosts
Speaking of Minecraft (number 5)
Minecraft (released in 2009) is one of the top three best-selling video games of all time. As of this writing, 18,207,546 units have been sold.
After selling Minecraft to Microsoft in 2014, founder Markus Persson decided it was time to take a break. In December he purchased a $70 million house (23,000 square feet); the most expensive house in Beverly Hills. The house boasts 15 toilets and a $200,000 candy room.
Here he is resting his feet in the candy room of his new abode via Twitter: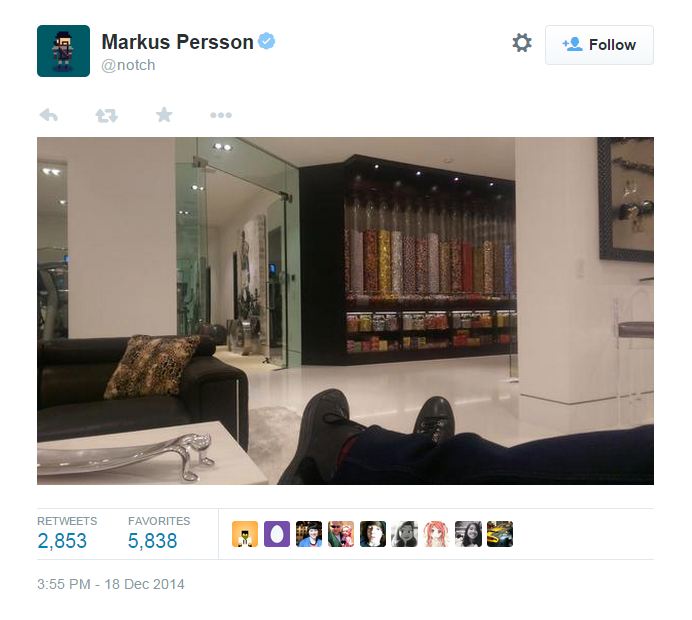 Mobile revenue is expected to overtake console gaming in 2015
It's estimated that the mobile gaming industry reached $25 billion in sales in 2014. That's almost double (42%) over 2013.
Ages 35-44 were the biggest spenders They averaged $6 per person, per month.
It's expected that revenue from smartphone and tablet titles will continue to grow, reaching $30.3 billion in 2015. Look at that number one more time and then consider that a mobile game or in-app purchase is often below $5 (or even $1).
The rise in video game viewership and eSports

Major League Gaming has 9 million registered users
It's the largest active video game channel and hosts live events and streaming action. In August 2014 the MLG Championship brought in 18,000 attendants. 2,000,000 were watching online. The top prize ($25,000) was awarded to the Evil Geniuses for Call of Duty: Ghosts.
YouTube gaming channels bring in more than 3.5 billion views each month.
People are tuning in on their computers in droves to watch others play video games accompanied by commentary. Why is this medium so attractive and entertaining? Some of the gamers are talented, some are funny, some are sarcastic and some are all of the above.
Competitive Video Game events are now known as eSports
71 million people watch competitive gaming worldwide
That means that more people are watching others play video games than are tuning in for US sporting events. That number has increased 8 fold in the past four years.
Whew! I know that was a lot of information to digest! Thanks for sticking with me. 2014 was a big year for the Video Games Industry and here's to an even bigger 2015!
Sources
The ESA Industry Facts
Level Up Learning: A national survey on teaching with digital games
Fortune – 10 Powerful Women in Video Games
Metacritic – Best iPhone and iPad Games of 2014
Forbes – The Top Ten Best Selling Video Games of 2014
Kotaku – Minecraft's Creator Buys the Most Expensive House in Beverly Hills
eMarketer – Mobile Gaming Revenues Won't Quit Growing
Major League Gaming
Mobile Games Market – Market insight beyond the rankings for the global mobile games market.
GeekWire – The rise of eSports: More people watch video game competitions than major sporting events
Forbes – The 100 Biggest Gaming YouTube Channels Now Bring In 3.5 Billion Views A Month
REF: bigfishgames.com/blog/2015-global-video-game-stats-whos-playing-what-and-why/
1. Google Play downloads
have surpassed iOS App
Store downloads worldwide.
In fact, Android app downloads have exceeded their competitor's figures by a whopping 45% in Q1 of 2014. Based on data from the App Annie Market Index, Android can thank their high numbers to several growing and highly influential foreign markets including Mexico and Turkey.
2. Gaming apps remain the top
revenue source for Android.
Mobile games are not only entertaining, they are incredibly profitable as shown by the data surrounding Android's revenue streams. On Google Play, downloads and transactions for games and related apps make up nearly 90% of its total revenue. Success in other app categories such as Communication and Tools thrived within the first quarter, as well.
3. Consumers in the fastest-growing
smartphone markets tend to choose
Android due to larger screen sizes.
Consumers in emerging smartphone markets have spoken, and new data from IDCsuggests that they've chosen Android over iOS. Rapidly  developing countries where the demand for smartphones is at a peak, like India, Philippines, Mexico, and Indonesia for example, seem to want devices with screens 5 inches and larger. This larger size makes these Android phones ideal for watching streaming content or (you guessed it) playing video games on the go. Considering the iPhone does not currently have any models at that size it's not surprising to see Android's popularity in these parts of the world. It'll be interesting to see how these figures change when the larger, iPhone 6 makes its debut later this year.
4. The U.S. ranks first in Google Play
app downloads and second in revenue.
The United States sat at the top of the list for app downloads followed by Brazil, Russia, South Korea, and India in Q1 2014. In terms of revenue however, Japan led the pack with the U.S., South Korea, Germany, and the United Kingdom filling up the top five.
5. There are seven Android
phones sold for every one iPhone.
Although Apple increased the number of iPhones sold by 4 million units, totaling 35.2 million phones last quarter; Android sold over seven times that amount with 255.3 million smartphones sold. That's an increase of 64 million Android phones.
REF: bigfishgames.com/blog/android-gaming-statistics-2014-a-worldwide-glimpse/
Be sure to complete your request for an Invite for becoming a United Games Affiliate up above.